Diary of a Madman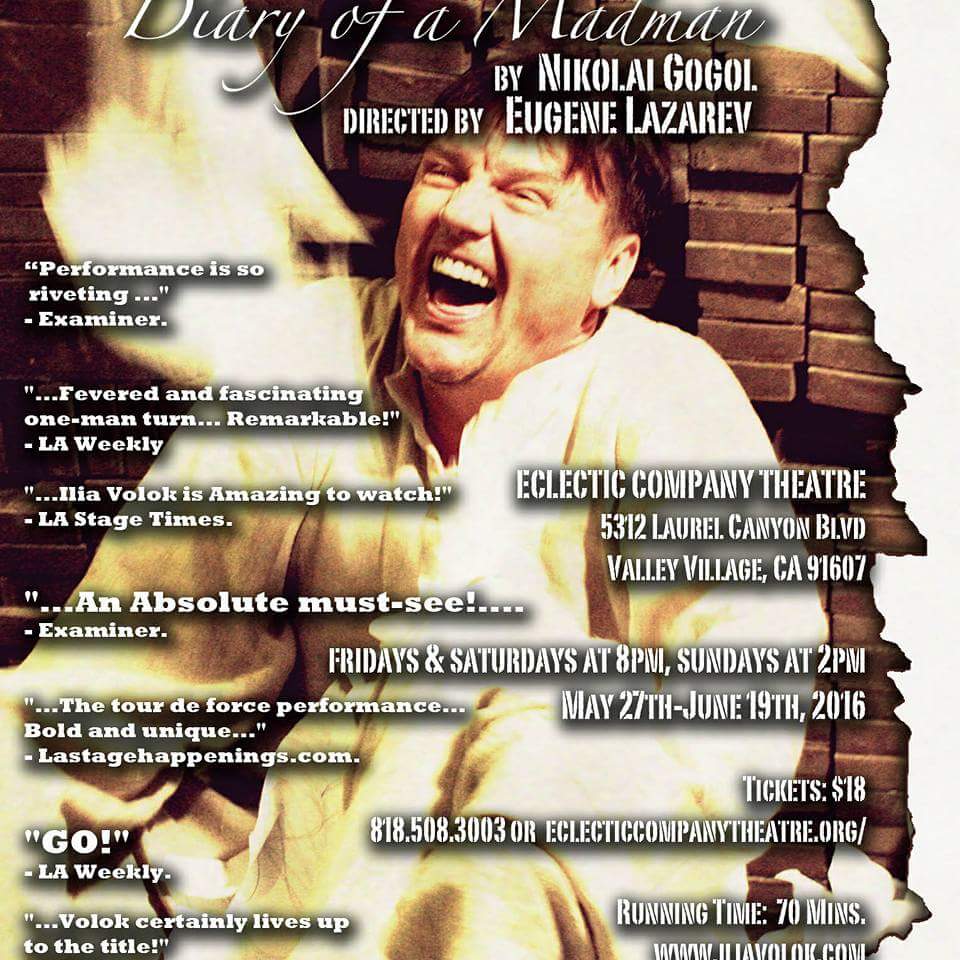 DIARY OF A MADMAN
                                       Starring Ilia Volok
                               Directed by Eugene Lazarev
Best Solo Performance, 2013 LA Weekly Theater Awards!
Only in his madness does the lowly anti-hero attain greatness!
See what people are raving about!
"An absolute must-see, with a performance by Volok that is so riveting that as his insanity escalates, he maintains a powerful core that never dissipates!" (Examiner)
"Fevered and fascinating one-man turn… Remarkable!" (LA Weekly).
"Ilia Volok is amazing to watch!" (LA Stage Times)
"Volok certainly lives up to the title!" (LA Times)
"The tour de force performance… Bold and unique…" (Lastagehappenings.com)
Written by famed Russian dramatist and novelist, Nikolai Gogol, "Diary of a Madman" still continues to capture audiences today.  This hugely popular one-man show makes its return to the stage this May 2016!  Adapted for the Stage by Eugene Lazarev and Ilia Volok, "Diary of a Madman" tells the story of a low-ranking civil servant who yearns to be noticed by a beautiful woman, with whom he has fallen in love. As his madness deepens, he begins to believe himself to be the heir to the throne of Spain.  His diary records his gradual slide into insanity as he yearns for individuality in a seemingly indifferent, urban city.