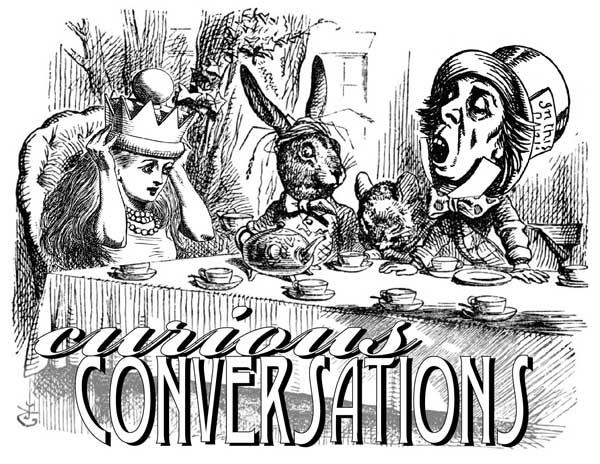 THE PRODUCTION            MEDIA            CAST & PRODUCTION TEAM
WRITERS
Eric Duhon (writer, Meet the Tweedles) is delighted to have his work featured among such fun and challenging pieces at Curious Conversations. He graduated from Northwestern State University in Natchitoches, LA with a degree in Performance and Directing in Theatre. Past writing credits include: Cradle of Life (Slidell Little Theatre), I Know (F.U.D.G.E Theatre Co.), Master Class (Fury Theatre), and Garcon (The Arc Theatre).


Nancy Cooper Frank (writer, An Alice of a Certain Age) Recent plays include the lighthearted tragedy Daniil Kharms: A Life in One Act and Several Dozen Eggs (staged readings: 2014 Great Plains Theatre Conference; Virago Theatre Company's New Plays Series in Oakland CA); The Plumber (First Place Winner, FirstStage LA's National One-Act Contest, 2014; San Francisco Fringe, in "Best of Fringe"-voted show Assorted Domestic Emergencies; 2014 Arundel Theatre Trail in the UK); The Announcement (2015 Little Black Dress INK ONstage Female Playwrights Festival). For the 365 Women A Year project, Nancy is currently writing a play about the tumultuous friendship between Catherine the Great and Princess Catherine Dashkova, first female head of a national science academy. Nancy lives in San Francisco.
Suzie Heaton (writer, Hard Boiled Alice) has always been an actress who knew how to write but really didn't pursue the writing part. She wrote poetry and kids stories when she was a kid. She went through a crazy sketch comedy stage where everything she wrote was SNL-ish. And now she is really into writing plays. She is currently working on three (yes you heard me-THREE FULL LENGTH PLAYS). She is thrilled to be a part of the Alice plays-and sends a shout out to all film noir fans.

Michael Maiello (writer, Looking Through the Glass) is a New York based columnist, performer, fiction author and playwright. He is the author of Shuts & Failures, Rejected New Yorker Pieces (Also Rejected by McSweeney's!). He worked for ten years at Forbes Media, writing and editing for both Forbes Magazine and Forbes.com. He has performed stand up comedy at The Laugh Factory, The Comic Strip and the Philadelphia Fringe Festival, Mama D's Arts Bordello and The Lost and Found Show. He has had four plays published (Night of Faith and Waiting For Death by Playscripts.com; Principia and Troy! Troy! Troy! by The New York Theatre xperience/indietheaternow.) He has written for The Daily, The Daily Beast, Newsweek, Reuters, Esquire, McSweeney's the Liar's League reading series and theNewerYork.
Rochelle Perry (producer/writer, Quit While You're a Head) has been a playwright since 2008. She's workshopped with such groups as East West Players, Theatre of Note, Write Act Repertory Theatre, Lisa Soland's All Original Playwrights, and most recently FirstStage. Some of her produced plays include The Tell Tale Cat, When Charlie Comes Home, White Horse, and Japan 1946 Meets California 2010, which received rave reviews. She completed her Certificate in Creative Writing from UCLA and is a member of the Dramatists Guild and Alliance of Los Angeles Playwrights. Her comedy play Velma and Manny was recently published with Original Works. She's worked in the Animation Industry since 2005 and loves bringing an artistic flair to anything that she produces in theatre.
Gabriella (Gabi) Rodriguez (writer, The White Rose) is a freshman in college and is working on her AA in Sequential Art. She spent most of her High School career hiding backstage or in the sound booth of the Theatre Department, but this is the first time since graduation that she's been lured back to the stage. She has one wrinkly, four legged child, and takes inspiration from sugar skulls, Celtic knots, and ghost stories. When she's not doing homework, she's drawing, writing, or being really, really bad at video games while listening to silly comedy bands.
Marni L. B. Troop (writer, Toke) has been a writer, editor, and story consultant for authors, academics, and scriptwriters for over twenty years. A member of the prestigious Coronet Writer's Lab, she is currently working on several feature scripts and television pilots, one of which made the second round of Austin Film Festival's Original 1-Hour Pilot competition in 2013. By day, she serves as English faculty at various colleges and crochets scarves while planning her next culinary experiment to unleash on her family. By night, she is an avid viewer of supernatural and fantasy dramas, really smart sit coms, and cooking shows hosted by Gordon Ramsey (should Ramsey ever host a witty supernatural cooking show, she'll be all over that!). Marni loves all things Gaelic, Autumn, freaking people out with her tarot cards, and engaging in discussions about quantum physics… and English toffee.
Natasha Troop (producer, set design, writer, Of Cabbages and Kings) is currently the president of ECT. Most recently, she designed lights for Spoon River: Cemetery on the Hill, produced Something Something New Vagina, and produced & directed So You Want to be a Vampire at ECT in 2014. This summer she will be producing & directing Richard III. She has also stage managed numerous plays here at ECT and a great number of L.A. area theatres including The Fountain, Theatre West, The Odyssey and The Actors' Gang. By day, she is finishing her 10th year as a high school Theatre Arts and Film teacher. She is also a member of the Horror Writers' Association and has written three novels in her horror series, The Lakebridge Cycle, and will be publishing the fourth by the end of 2015.
DIRECTORS
Madelyn Heyman (director) is thrilled to be directing again here at the Eclectic Company Theatre! She directed two one acts for last year's "Eclect-a-Fest," and since then hasn't been able to stay away. Madelyne has directed a wide variety of work from plays (Go Back For Murder), to musicals (Avenue Q, Spring Awakening, Grease), to her own original work (Semi Darkness: A Twilight Parody, Damn You Autocaress, Apocalypticality). Madelyne has always been fascinated by Alice in Wonderland and she enjoyed bringing that fascination to these fresh interpretations. In her spare time she loves to play the ukulele and grow herbs indoors.
Shane Labowitz (director) is a Los Angeles native, born and raised in Tarzana, California. Though he has never read the Tarzan series, he enjoyed the cartoon until he grew a distaste for Phil Colins. Shane studied film at San Francisco State University and has since used his overwhelming and vast knowledge of the craft of screenwriting to write sketches that mainly consists of weird bizarre stuff and fart jokes. At SFSU he directed a one act and wrote several short plays and made his thesis film entitled Eleven. By day he films videos of toys and talks about them for an online toy company and by night he is a stand-up comedian/Batman/netflix binger.
ACTORS
Nathalie Blossom * (Red Queen) Commercials paid the bills, film offered prestige, but the stage is where the heart is fulfilled. From Malibu to North Hollywood, whether it's directing or acting, Nathalie Wonders where she'll Land next. In the meantime, there are chickens, a three-legged dog, husband, son and his gal, all lending their endless love and support. Thank you. And thanks to everyone at The Eclectic Theatre! Life is good.


Amanda Charney (Orange/Tweedle Dee Understudy) is excited for her first show with the Eclectic Company Theater! A recent graduate of the USC School of Dramatic Arts (SDA) and a life-long performer, some of her favorite performances include Avenue Q with Little Table Theater (Kate Monster), and The American Clock with USC's SDA. She was classically trained at the British American Drama Academy (BADA) in London, where she appeared in a production of The Eumenides and deepened her anglophilia. A Beach Cities native, Amanda grew up in dance classes, music lessons, and musicals. She is passionate about crafting, Shakespeare, and travel adventures. Many thanks to the incredible family andfriends that she is unimaginably lucky to have surrounding her. More at amandacharney.com and @thatcharneygirl.
Melanie Cruz (Tweedle Dee) is a Colorado native who has traveled to four of the seven continents, including a year-long stint at McMurdo Station in Antarctica. She studied English and Theatre at Barnard College in New York. Stage highlights include Stella in A Streetcar Named Desire, Coonass Blooze in the world premiere of How Katrina Plays, the vagina workshop monologue in The Vagina Monologues at the DGA and the title character in Goodbye Marilyn: A Love Letter. TV/Film highlights include House M.D., Big Love, Agents of S.H.I.E.L.D. and Thursday's Speaker. Find out more at www.melaniecruz.com.
Abby Gershuny (Queen of Hearts) is a recent LA transplant from the New York acting scene where one of her favorite roles was a feisty zombie in an Off-Broadway play. Abby has a BFA in musical theater from The Hartt School conservatory in CT. Favorite roles are Katisha in The Mikado, Dolly in Annie Get Your Gun, and Martha in Secret Garden. She is excited to be playing the Queen of Hearts in her first West Coast play, and is looking forward to chopping off some heads this season. Love you Mommy.

Carissa Gipprich (White Rabbit) migrated from Pennsylvania to study theatre and music at Pepperdine University and has since been actively involved in the LA performing arts scene. She has also been trained at the Stella Adler Studio in NYC as well as the Upright Citizens Brigade in LA. As a proud member of the Eclectic Company Theatre, Carissa is excited to be involved this season in Curious Conversations as well as Richard III. You can also witness her comedic chops performing with the resident improv troupe, Weird on Top.

Seann Hallisky (Green Caterpillar/King of Hearts) is proud to be making his first appearance on the Los Angeles stage after leaving a successful high tech law career in Seattle. He moved to LA in November of 2014 to pursue his passion for acting in theater, film and television. Seann studies the Meisner technique with John Ruskin at the Ruskin School of Acting and hones his comedy improve skills at the Groundlings School. He holds a B.A. in Philosophy from La Salle University and a J.D. from The Notre Dame Law School. Seann is a snowboarder, juggler, poet, aspiring screenwriter, and Yogi, and as his friends will attest, a creative and talented chef. He lives in West Hollywood and is grateful for the opportunity to pursue his dreams of travelling the world and working with extraordinary people.
JC Henning* (Older Alice, "Alice of A Certain Age") (AEA, SAG-AFTRA, Academy of Television Arts and Sciences): JC trained at the British American Acting Academy in London and has performed in over 100 stage productions. Her many TV and film credits include Elga in the ABC-BBC co-production The Story of David starring Keith Michell and Jane Seymour. JC has performed in over 40 productions with The Los Angeles Opera, New York City Opera, ABT and the Kirov Ballet.

Dai Kornberg (Caterpillar/Blue Caterpillar) is SAG-AFTRA/AEA and a former Associate Member of the WGAw. He has appeared Off-Broadway in The Elephant Man (Equity Library Theater), as the Goat Boy on The Amanda Show, Clown and Attendant on Rugrats, The Singing Slasher on The Morton Downey Jr. Show, Police Office Teddy Janczewski on America's Most Wanted, and a Tom Snyder puppet voice on The Tomorrow Show. He has worked with John Leguizamo, James Avery, Chris Rock, Dave Attell, Terrence Howard, Robin Givens, Amanda Bynes, Andy Kaufman, Tom Snyder, Rich Little, Tony Shalhoub, etc. He is madeentirely out of wood chips.
Meghan McConnell is ecstatic to be acting in Curious Conversations. This is the first mainstage production she has performed in since she was 8 months pregnant…three years ago. She is a very active member of the Eclectic working in various capacities at the theatre, including making the best cookies ever for our monthly variety show, tinyDANGEROUSfun! LA. EVER!


Merileigh Moen (Tweedle Dum) goes by many names: Merrily Mowin' the Lawn, Mer-MOE, Mary-Jane, Mary Swanson, HER?, Bobley Pardon, GRAN'-MA, "That one who works like a MAN," the Lady with the bloody nose at Trader Joe's, a "pretty girl, when she's not makin' all those STUPID faces"…but TODAY, Mer is proud to call herself Tweedle-Dum, and OH-so grateful to be in the company of such inspired storytellers! When she's not writing, drawing or rehearsing for various funny projects, she is likely canoodling with senior citizens, basking in the wonder of nature, or raising a glass: TO LOVE!
Adrienne Pearson (Mad Hatter) is a proud member of the Eclectic Company Theatre and is excited to be involved with such a spectacular production, with amazing people. She was last seen in her self produced film Balloons. Her other world consists of being the lead singer of L.A. based death rock/ punk band Readership Hostile.



Tim Polzin * (Sam Spade/ Walrus) is delighted to be working in his debut with the Eclectic Company Theatre in this production. Tim is originally from Marshalltown, Iowa, and received his BA in Theatre Arts from the University of Iowa. Other Los Angeles Credits include: Snow Queen (Fremont Centre Theatre),U.S.S. Pinafore & All in the Timing (Crowne City Theatre), Guys & Dolls (Musical Theatre West), Annie Get Your Gun and Scarlet Pimperel (Cabrillo Music Theatre), Anything Goes, Annie, The Music Man (Music Theatre of Southern California), Dames at Sea, Dr. Faustus, Antigone, Julius Caesar (The Knightsbridge Theatre), Henry V (Pasadena Shakespeare Company), Macbeth (Loft Ensemble Los Angeles), Comedy Errors, As You Like It (Nevada Shakespeare in the Park), Midsummer's Night's Dream and Pericles (The Globe Playhouse.)
Nicolette Shutty is thrilled to join the cast of Curious Conversations. A Chicago native some of her favorite roles there included Penelope in The Odyssey (Lookingglass Theatre) and Mary Lennox in The Secret Garden (Metropolis Theatre). Moving to California she began her film career landing the lead in Corollary. Other film credits include Justice for All 2 and Party Killer amongst others. Thanks to friends, family, and teachers for all your support. Nicolette is represented by the Daniel Hoff Agency.

Lisa Stanley * has appeared on numerous television shows, including: Modern Family, Parks and Recreation, Nip/Tuck, E.R., West Wing, to name a few. Besides being an actress, she is a professional singer and is part of two incredible bands: The Wonderelles, a 50s/60s music revue and Make Mine Acoustic, a 3-part harmony trio with guitars. She runs the successful Dickens-style Christmas caroling company, The Voices of Christmas. Lisa is a proud member of Actors' Equity, SAG & AFTRA. Love to her husband Neal and her doggie children, Bella, Lucy & Luna. A huge "thank you" to her agents at FCTA.
Eugenie Trow (Voice/Poet) is a playwright and actress. Acting credits include Mother Teresa in The Last Days of Judas Iscariot (Back Alley Theatre); Bella in Big Love, and Woman 1 in Play (Antelope Valley College Black Box Theatre). Her plays Caution: Bees Flying and Listen to the Holes have had workshop productions at the Actor's Group Theatre; Waste Not had a workshop production at the Ensemble Studio Theatre. She co-authored the book Colors of the Heart, with her plays and poetry and visual artwork by Rich Sim. She teaches theatre and math at Antelope Valley College. (Dramatists Guild, Alliance of L.A. Playwrights)
Diana Vaden (Cheshire Cat) is thrilled to be performing in this witty and whimsical production with Eclectic Company Theatre. She received her BA degree in Theatre Arts from the University of Southern California. Recent credits include: West Side Story (San Diego Musical Theater); Chicago and Hairspray (Royal Caribbean Productions); and the Disney Bollywood film Any Body Can Dance 2 to be released later this year. She is also a creative nonfiction writer and a poet - her work can be found at www.thediwrights.wordpress.com. God Bless.
Nate Werner (Carpenter) is a recent graduate from the University of Southern California's School of Dramatic Arts and has had the opportunity to play a number of characters ranging from Nicky in Avenue Q, to a kindly old southern woman in Animal Stories, to Drunk Hamlet in the Magnolia Theatre's Drunk Hamlet. This is his first production with the Eclectic Company Theatre and he looks forward to more productions with the Company in the future.
* Member of one or more of the 4-A performing arts unions
COSTUMES
Tsebahat Fiseha is an Artist/ Designer from Los Angeles. She majored in Animation Arts at Woodbury University, which she earned a B.F.A. She later earned an M.F.A. in Visual Development from Academy of Art University in San Francisco. Tsebahat has worked on various projects ranging from fashion shows, commercials to film. She is currently working on a short film.


Becky van Cleve is a Costume Designer for both stop-motion animation and live action. She is the Head of the Costume Department for Stoopid Buddy Stoodios on such shows as the Emmy Award winning Robot Chicken and L Studio's Friendship Allstars of Friendship. She has also designed costumes for the short films Losing Ferguson and How to be a Female Director. She lives and works in Los Angeles, CA. Her full portfolio can be seen at www.beckyvancleve.com
VIDEO EDITOR/PROMOS
David Estes began editing and creating visual effects in 2001 in his home state of Iowa. He moved to Los Angeles in 2009 to pursue a full time career in the industry. He has worked on various films, TV shows and theater/live presentations, on both animated and live-action projects. He currently works at Cartoon Network and his past work includes projects for Disney and DreamWorks.